Air Duct Cleaning in Baltimore
Duct Cleaning Services for Healthy Indoor Air
At Albright's, we're pleased to offer our expert duct cleaning services for homes in Baltimore and the surrounding areas. Our team of HVAC professionals have extensive years of experience and use only the latest equipment and material while performing all air duct cleaning services to ensure that the absolute best job is done. If you are looking for professional air duct cleaning services for your property, you can count on us to get the job done right for you.
Call Today For A Free Estimate!
How Often Should Air Ducts Be Cleaned?
Air ducts play a crucial role in regulating the indoor air quality of your home or office. They are responsible for circulating air throughout the space, providing you, your family, or employees with fresh, clean air. However, over time, pollutants can begin to accrue within the ductwork, which can have a negative impact on the quality of air that is being distributed. Therefore, to maintain cleaner air throughout your Baltimore property, it's recommended that your air ducts be cleaned every three to five years.
However, you may need to invest in more frequent duct cleanings if you have pets, suffer from allergies, or have experienced water damage on your property. You should also consider investing in a duct cleaning service if you have recently moved into a new home or completed a home remodel project, if anyone residing on the property smokes, or if you notice any signs that indicate your air ducts need to be cleaned.
Signs You Need Air Duct Cleaning:
---
Your property has accumulated more dust than usual
There is mold or mildew growing within the air ducts
You notice unpleasant musty odors from the ductwork
The air ducts are invested with insects, rodents, or other pests
Your allergy symptoms are more aggravated than normal
The airflow throughout your property is lacking
Your energy bills have suddenly risen
If you have noticed any of the above issues, contact the Baltimore duct cleaning team at today to schedule a service.
Extend the Life of Your HVAC System with Regular Duct Cleaning
Did you know that regular duct cleaning can help extend the lifespan of your HVAC system? Over time, dust, dirt, and debris can accumulate in your air ducts, causing your system to work harder and potentially leading to costly repairs or premature system failure. By scheduling professional duct cleaning on a regular basis, you can ensure that your HVAC system is running efficiently and effectively.
Benefits of regular duct cleaning include:
Improved indoor air quality: Clean air ducts help remove allergens, dust, and other contaminants from your home, creating a healthier living environment for you and your family.
Elimination of unpleasant odors: If you've noticed a musty or stale smell in your home, dirty air ducts could be the culprit. Professional duct cleaning can help eliminate these odors, leaving your home smelling fresh and clean.
Increased air flow efficiency: When your air ducts are clogged with debris, it restricts the airflow throughout your home. By removing these obstructions, duct cleaning can help improve the overall efficiency of your HVAC system, resulting in better airflow and more consistent temperatures.
Prolonged HVAC system lifespan: By reducing the strain on your HVAC system, regular duct cleaning can help extend its lifespan, saving you money on costly repairs or premature replacement.
At Albright's Mechanical Services, we are committed to providing professional duct cleaning services in Baltimore and beyond. Our expert team is equipped with the knowledge and tools to thoroughly clean your air ducts, ensuring that your HVAC system operates at its best. Contact us today to schedule your duct cleaning service and experience the benefits for yourself.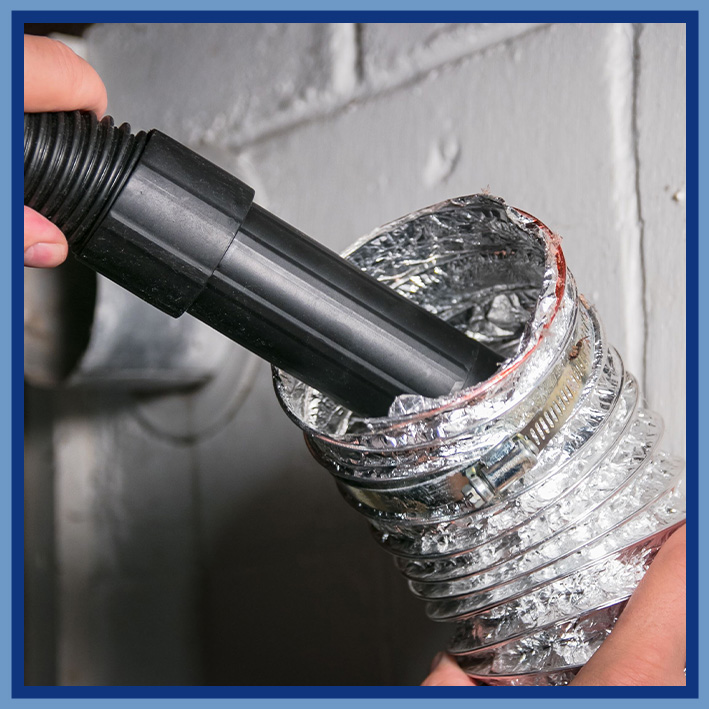 Is Air Duct Cleaning Necessary?
Every day dirt, dust, pet hair, bacteria, and viruses accumulate in your house or office air ducts. Even the cleanest buildings have these particles sucked into the HVAC every day. Air duct cleaning is essential for you and your family's health as well as for the peak performance and long life of your HVAC system. In fact, professional air duct cleaning provides a number of important benefits to your home or business. Below we list three of the most essential benefits that air duct cleaning services can offer your Baltimore property.
Improves Indoor Air Quality
The most important thing about air duct cleaning is that it improves your indoor air quality. Your air ducts not only carry dust, but also other particles that could be harmful for you, your family, or your employees. Such contaminants can include things like pollen, bacteria, pet dander, and other such similar toxins. If you or anyone in your household suffer from respiratory problems such as asthma or allergies, thorough air duct cleaning services will be able to create a healthier living environment and eliminate the possibility or worsening of symptoms due to your indoor air quality.
Eliminates Unpleasant Odors
Another important benefit that air duct cleaning offers is that it eliminates unpleasant odors in your home or business. There are a number of odors that can contribute to stale smells in your air ducts. Such odors include tobacco, mold, cleaning agents, and pet odors. Each time that you run your air conditioner or furnace, these odors will continue to circulate throughout your home or office. The accumulation of dust can also contribute to unpleasant odors over time. With thorough duct cleaning in Baltimore, you can help to remove any odor trapping particles, and create a fresh indoor living environment for you, your family and your employees.
Increases Air Flow Efficiency
Air duct cleaning goes a long way towards improving the efficiency of your heating and cooling system by removing debris that can restrict airflow. Once air flow is hindered by build-up like dirt, dust, pet dander, pet fur, lint, etc., your furnace and A/C will have to work harder than normal to heat or cool your home, which results in an underperforming system and higher energy bills.
---
Contact us online or call (410) 834-0148 to schedule an appointment today for air duct cleaning in Baltimore, MD.
---
Can You Clean Your Own Air Ducts?
While there are DIY methods for air duct cleaning, it's always wise to seek the services of a professional to ensure that the job is done correctly. Without the proper equipment and training, not only could you fail to fully clean your air ducts, but you could also damage the duct system and put excessive strain on your HVAC system, leading to costly repairs. Additionally, attempting a cleaning yourself could expose you to mold and other harmful contaminants that a professional has the expertise and knowledge to handle. Ultimately, it's best to leave this maintenance task to an experienced technician who has the skills to safely and effectively clean your air ducts.
Providing Professional Duct Cleaning in Baltimore & Beyond
Call us to inspect your home's ducting, and we'll provide you with a free duct cleaning estimate. Our specially-trained Baltimore air duct cleaning technicians will clean the full length of the interior of your air ducts. We use specialized equipment to vent out the particles and buildup out of the building. Finally, we will clear, scrub, and sanitize your air ducts, leaving your environment clean and safe and easy to breathe.
Our Promise to You:
We provide quality service
Your satisfaction is guaranteed
We offer competitive pricing
---
What are you waiting for? Call our Baltimore duct cleaning pros at (410) 834-0148 to learn more about our payment plans.
---
Recommended Reading:
Make It Right - Call Albright's!
"He was very meticulous solved the problem and then cleaned my system."

"Thank you for taking great pride in your job and going above and beyond."

"I have used Albright for several years with excellent results."

"Great experience. A+. 5 Stars."

"From those answering the phones to their technicians, the service provided is outstanding."
Benefits of Working with Our Expert Team
Call or Contact Albright's 24/7

We'll Schedule Service Right Away

Experience Reliable Service with a Smile

Enjoy Your Regained Comfort
50 Years of Serving Our Community
Common Areas We Serve
Dundalk

Essex

Rosedale

Towson

Middle River

Edgemere

White Marsh

Joppa